Gail Shawn Burda
Dba Portraits of Your Home by Shawn
Gail, or her middle name Shawn as she signs her drawings, not only specializes in a certain medium – pencil, but also a certain subject – the home. "The amount of time a person spends turning a house into a home is incalculable. A drawing of that home expresses and captures that feeling of accomplishment. It is special like the home itself". Her work includes color and black & white pencil drawings of homes, businesses and older buildings of interest to her, leaning toward those with weather beaten shingles.
Gail's senior year in high school a classmate in her art class suggested that she enter the Wickford Art Festival exhibiting her small pencil drawings. She was not only excepted into the Wickford Art Festival, that year, but put up a sign reading, "orders taken"…..it launched her Portraits Of Your Home by Shawn business. That was 1966 and she celebrated her 50th consecutive year as an exhibiting artist in the Wickford Art Festival in 2015.
Art history: Gail attended Butera School of Art in Boston, did some design work for a free-lance artist working for Hasbro, taught Beginning Pencil Drawing in the North Kingstown Adult Education Program (in later years took over the Adult Education Program business, as the self- employed Director), volunteering at some of the North Kingstown Elementary schools and at various branches in the Providence Public Library system, teaching pencil drawing to children. She was voted a life time member in the Wickford Art Association.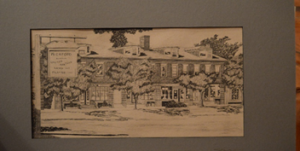 Gail's contribution to ArtVenture will be two of her prints of Wickford, RI, matted in a black core mat, image size 13.25"wx9"h with a three-inch mat.