The 2022 Children's Entertainment Series will take place
Thursdays, 6PM at the Town Beach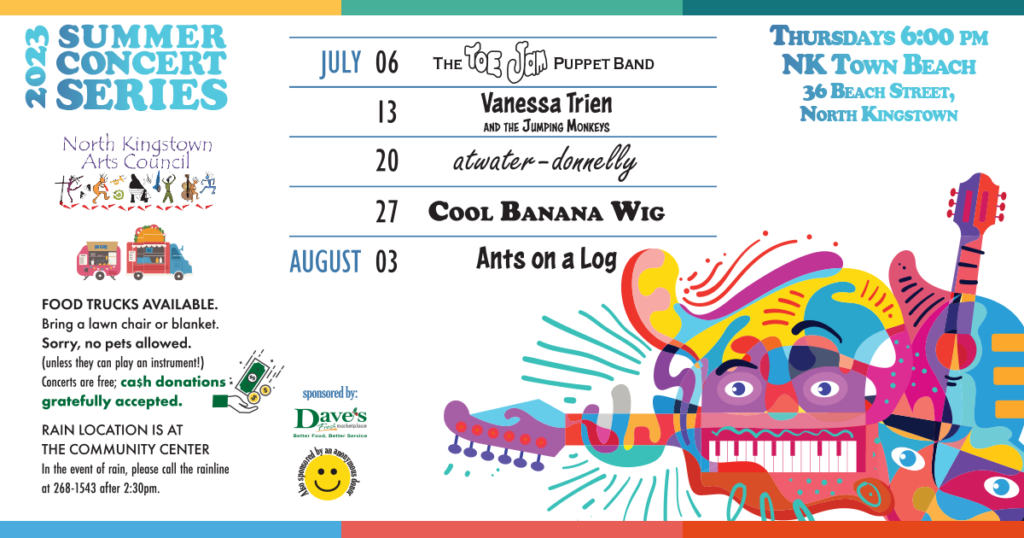 Schedule:
July 6, 2023 – Toe Jam Puppet Band
July 13, 2023 – Vanessa Trien & the Jumping Monkeys
July 20, 2023 – Atwater-Donnelly
July 27, 2023 – Cool Banana Wig
August 3, 2023 – Ants on a Log
Bring a lawn chair and friends. Cash donations are accepted; $5.00 per family suggested.
In the event of rain, please call 401-268-1543 for updates after 2:30pm. If concerts cannot be held outside due to weather, they will be held at the NK Community Center.
Sorry, but no pets allowed unless they can play an instrument!
For Exciting Opportunities and Recreational Programs please visit: https://nkrec.recdesk.com/Community
The 2023 Children's Entertainment Series is generously sponsored by: