September 10th, 2022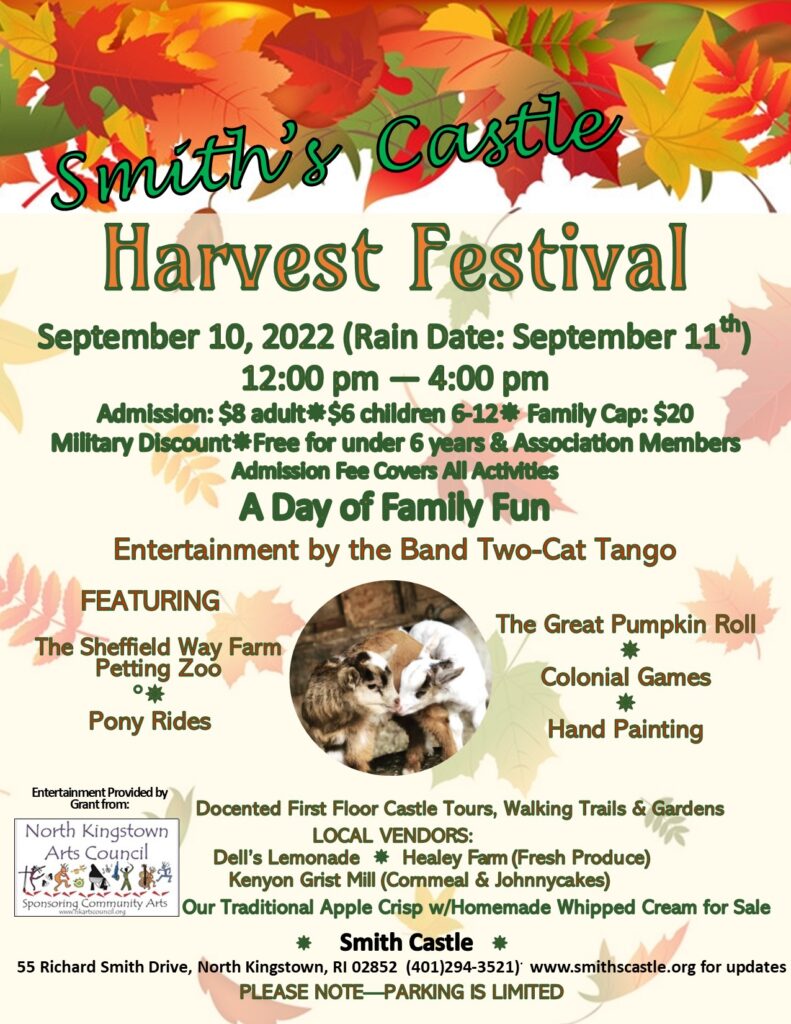 See updates at www.smithscastle.org
Smith's Castle will host its annual Harvest Festival, its seasonal celebration of spring on September 10, 2022 from 12-4 p.m. with a rain date of September 11.
This year's festival will feature the Sheffield Way Farm Petting Zoo and Pony Rides,  entertainment by the band Two-Cat Tango, and the return of the Great Pumpkin Roll. Additional children's activities include hand painting and colonial games.  Other available activities include tours of the Castle, walking the trails, viewing the colonial gardens and visiting the booths of local vendors. Dell's Lemonade will provide refreshment, Healey Farm will feature fresh produce, Kenyon Grist Mill will sell its cornmeal, and provide johnnycakes. Our traditional apple crisp with homemade whipped cream will also be for sale.
Admission is $8.00 per adult, children 6-12 $6.00, under 6 years of age free, military discount, $25.00 family cap. Entertainment sponsored by the North Kingstown Arts Council. Please note: admissions covers all activities, there will be limited parking for this event
55 Richard Smith Dr. Wickford, R.I.
Contact 401-294-3521 or email smithscastle55@gmail.com for more information