Linda King
North Kingstown, RI Acrylic, Mixed Media, Collage Artist
https://www: lkingartist.com lkingartist@gmail.com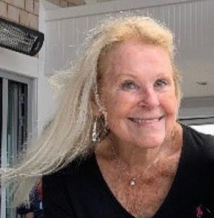 Linda is a Rhode Islander who loves the awesome power of the sea crashing against
the rocky coastline, intrigued by its ever changing colorations and textures created by the weather patterns that we have here in New England.
She has attended workshops in all media with local New England artists, and
particularly was inspired and encouraged to pursue her own approach to art by
Barbara Besson Delannoy, who was an award winning watercolorist with a studio and gallery in Wickford. Linda is grateful to have known her and been mentored by her, it was a life changing event.
She enjoys working in acrylics and collage, both as a water media on paper and also
using it much like oil on canvas and board. A love of texture and dimension is evident
in her use of paper and mixed media to create depth and movement in her work.
Finding compositions in everyday things and in nature and abstracting them into
works of art, particularly inspired early on by the crashing surf at Beavertail in
Jamestown and it remains her favorite source of inspiration.
Linda has received many awards for her collaged seascapes and abstracts. Her
work is in private and corporate collections in New England, New York, North
Carolina, Virginia and California. She is currently a member of South County Art
Assoc., Wickford Art Assoc., New England Watercolor Society. A juried artist member
of Artists Cooperative Gallery of Westerly and an elected artist member of Mystic
Museum of Art.