TRAILER PARK SHOW DATES HAVE CHANGED!
New dates are:
May 13th & 14th @ 8pm, May 15th @ 2pm
The all inclusive bus to Providence is Sunday, May 15, leaving at 12:15ish at 30 Beach Street. The date/time in this flyer below are incorrect, but the rest of the info is good.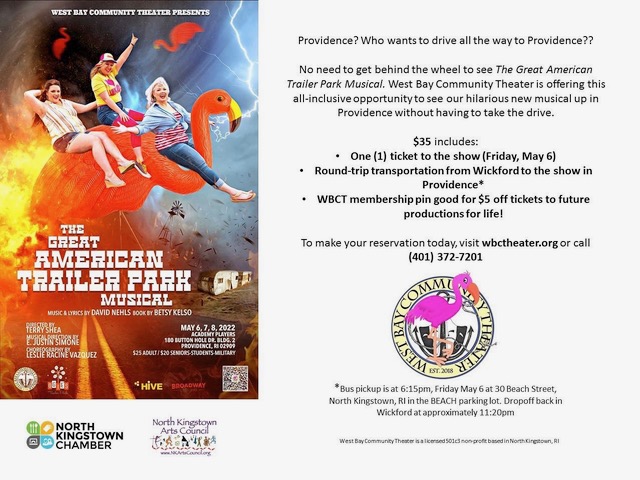 to make your reservation visit wbctheater.org or call 401-372-7201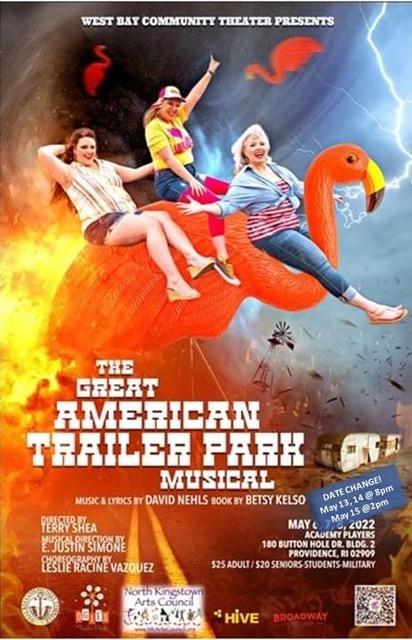 CAST
Donna Gorham – Jeannie, Zach Searle – Norbert Sarah Wolf – Pippi, Ian Hudgins – Duke, Lydia Johnson – Lin, Katherine Boisclair – Betty, Gabriella Rose – Pickles
PRODUCTION STAFF
Terry Shea – Director / Sound DesignE. Justin Simone – Musical DirectorLeslie Racine Vazquez – ChoreographySamantha Hudgins – Production Stage ManagerKevin Thibault – ASM/Properties ManagerStephanie Traversa – Costume Design/Understudy Amelia Smith – Scenic DesignZach Searle – Lighting Design / Master Carpenter Laura Ash – Asst. to the Director/UnderstudyRichard Marr-Griffin – Poster Design
ABOUT THE SHOW
David Nehls – Music & Lyrics Betsy Kelso – Libretto
The story has, at its center, a love triangle between an agoraphobe, a highway toll collector and an exotic dancer with an unhinged ex-boyfriend. A Greek-chorus-eque trio of trailer park women helps guide the narrative, playing any character or gender they choose while breaking the fourth wall at whim to air their own dirty laundry.
The result is a sense of informality and community – the lifeblood of neighborhoods everywhere. Almost two decades after its New York premiere, "The Great American Trailer Park Musical" continues to connect with audiences and sold-out crowds. Beyond the broad comedy and Jerry Springer-worthy confrontations, the show is about rising above our impulses, our mistakes and our surroundings to make a future we can believe in despite the past.
"…Cole Porter cleverness with a Hot Pockets sensibility." – PITTSBURGH MAGAZINE
"More fun than a chair-throwing episode of Jerry Springer set to music." – THE NEW YORKER
"The Trailer Park meets South Park in this big-hearted new musical comedy with a cheeky script by Betsy Kelso and an infectious score by David Nehls." – THE NEW YORK SUN
More information and background at www.trailerparkmusical.com