May 26, 5pm
(rain date May 27th 5:00pm)
Join your town and neighbors to unveil an art collaboration by local student and adult artists!
The Wilson Park Splash Pad was installed in 2021. On Thursday, May 26th at 5pm, join your town neighbors as educational, art-filled plaques will be unveiled and the 2022 splashpad season will open! The plaques have been created with art by local adult and child artists and they will be there to celebrate their masterpieces! The signage addresses what NK Kids know about: the Narragansett Bay, pollination, conservation and water protection.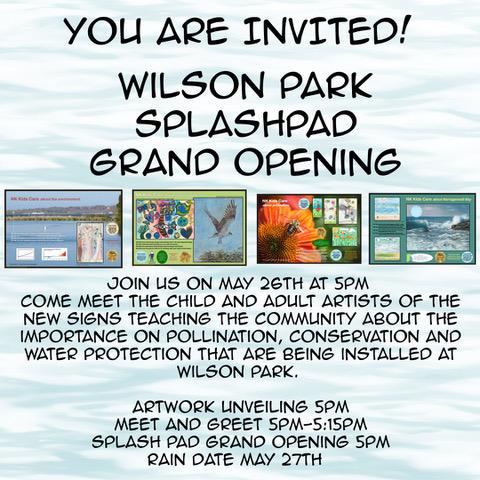 In order to have these signs made the NK Arts Council went to Wickford Art Association and the NKSD had contests on the drawings that would be used. We want to thank WAA and all of the Art Teachers that had a special hand in this including: Maria Masse, Mia Thompson, Danielle Singh, Victoria Carlton, John Garcia and Robin Kasparian. A huge thank you to the graphic designer for this project Debbie Sabo. Thank you to our Parks and Recreation Maintenance team for quick sign installation. It also goes without saying that the biggest thank you goes to the artists themselves. The Adult artists are: Betsy MacDonald, Donna Marie Horan, Gina Campbell and Lori Jeremiah and some of the child artists: Ryan Kim, Victoria McCarthy, Brayden Forte, Alena Holosmbach, Leo Chamorro-Hedrick and Lyla Watts. In addition to these artists we had two amazing collages by several students from grade 5 at Forest Park and grade 5 Quidnessett Elementary students. The rain date for this event is May 27th 5:00pm.